Founded in 2019, Abogen Biosciences is one of the pioneering biotech companies in China to develop mRNA-based therapeutics. The company bears firm belief in the boundless prospects of mRNA science and technology. Upholding this vision, we have established our own proprietary mRNA platform and LNP-based delivery system to open a world of possibilities for creating an unprecedented abundance and diversity of treatments that address unmet medical needs.
Abogen is one of very few biotech companies in the world that self-developed all of key mRNA platform technologies across mRNA synthesis, delivery and manufacturing. Our technology platform enables us to develop vaccines in line with the fast variation of COVID-19 virus. ARCoV ( Commercial name: AWcorna) is the first approved China-made mRNA vaccine in combating against global pandemic.
At Abogen, we keep exploring new frontiers of mRNA to drive progress in drug discovery landscape. We aim to develop a whole new class of mRNA-based therapeutics with better profile of safety and efficacy in prophylactic vaccines, oncology & immunology and protein replacement.
We are dedicated ourselves to patients. With the mission to make scientific breakthrough and deliver innovative treatments, we encourage everyone to be a true leader with the courage to do the right thing, sense of urgency and the commitment to timelines and deliverables.

We relentlessly focus on finding meaningful breakthroughs and transformative solutions to otherwise untreatable diseases. We are encouraged to challenge the status quo, seek truth with facts and data, fiercely innovate and find the ultimate answers through trials and errors.

There is no permanent authority in scientific research. By advocating openness and embracing diversity, we create an inclusive working place where unique talents are respected, different sounds heard, and curiosity cherished. We are encouraged to learn from each other and strive to get best out of others.
Making history with innovation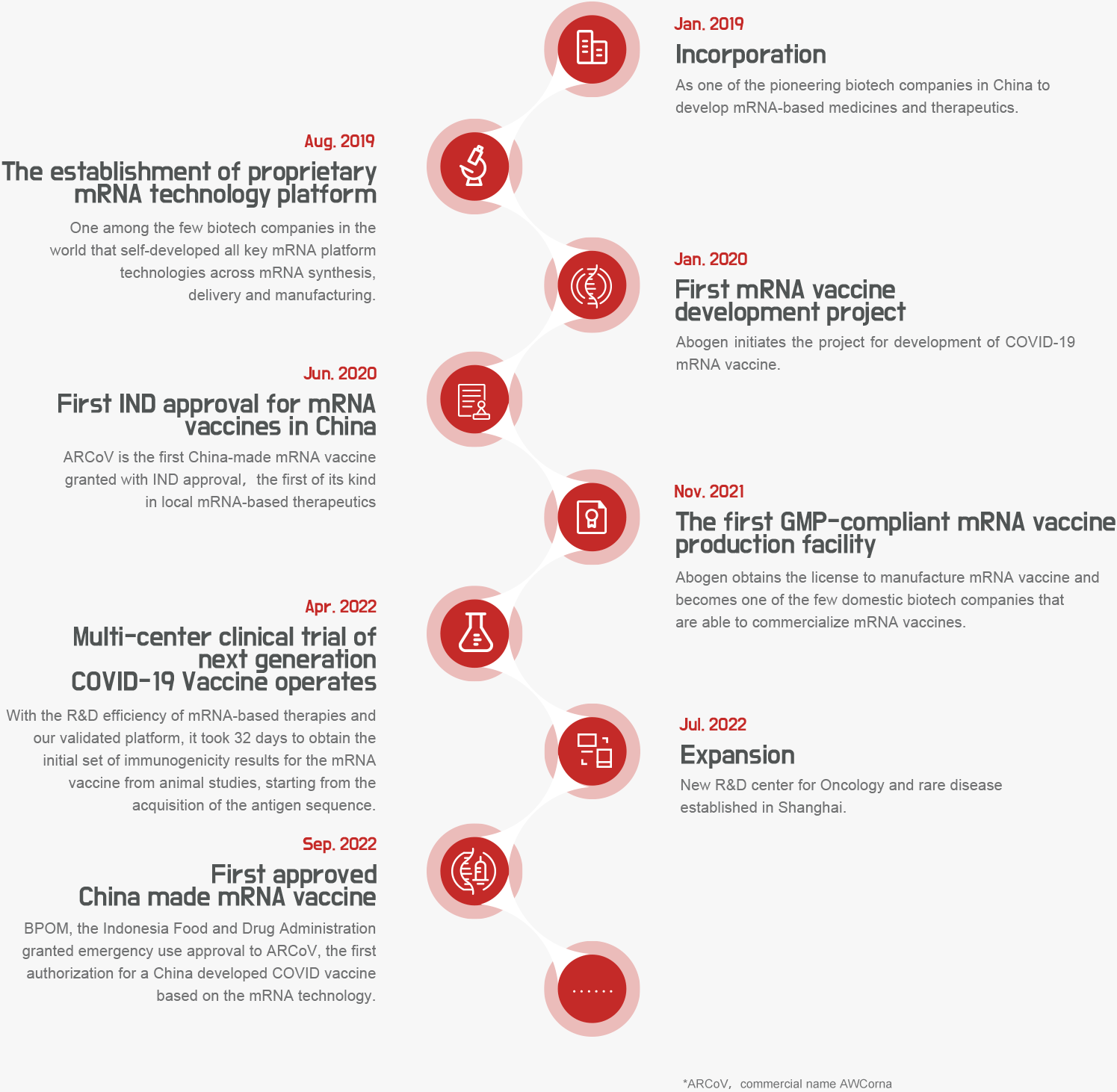 The human body has incredible potentials, and it just needs the right message of what proteins to synthesize to fight against diseases. As we further advance our technology platform, we believe mRNA will completely transform the way how medicines are made and how diseases are treated.

—— Bo Ying, Ph D, Founder, Chairman and CEO

Bo Ying, Ph.D.

Founder, Chairman and CEO

Dr. Bo Ying has dedicated over a decade of his career to the technology research into nucleic acid -based therapeutics and the development of transformative drugs. He founded Abogen, a biotechnology company with a mission of curing otherwise untreatable diseases through mRNA science and technology.

As the founder, Dr Ying also has served as Chairman of the board and CEO of Abogen. Under his leadership, the company has established its own proprietary mRNA platform and delivery technology that allowed the development of the therapeutics and vaccines for infectious diseases, cancer, and rare diseases. Most recently, Abogen's mRNA platform capabilities have come together to allow the authorized use and approval of first China made mRNA vaccine against the COVID-19 pandemic.

Prior to founding Abogen, Dr Ying had held several roles at numerous leading biopharmaceutical and biotechnologies companies in the US, mainly responsible for leading drug formulation, process development, technology transfer and manufacturing. Across his career, he takes pride in a broad array of innovative drug developing experiences in siRNA, mRNA-based therapies for tumor immunotherapy、cancer vaccines and gene-editing drug product candidates.

Dr. Ying received his bachelor's degree in life sciences from Fudan University, Shanghai, and Ph.D. in pharmaceutical sciences from Northeastern University. He is credited as the inventor of a dozen issued patents and patent applications, and his work appears in journals such as Cell and Lancet.

Over the years, Dr. Ying has held several positions in influential organizations. From 2018 to 2019, he served as the president of the Chinese-American BioMedical Association (CABA) in Boston, where he made contributions to the advancement of science and technological innovation with great potential to improve human health.